TL Innovation Lab is a student and volunteer driven enrichment program that offers a maker lab space so our student have opportunities to make really cool stuff.

--------------------------------------------------------------------------------
TL Maker Lab
Open to All Students:
Wednesdays, 3 - 4:45 p.m. in the Engineering Tech Lab
---------------------------------------------------------------------------------
TL Maker Lab Leadership
Student Leaders
TL Maker Lab Lead Student Mentor 2015-18: Maurice Ruttimann, Junior, Terra Linda High School

TL Maker Peer Mentor & Founder: Owen Bartolf, Senior, Marin School for Environmental Leadership, owen,bartolf@gmail.com
TL Faculty Leaders
TL Innovation Lab Head Teacher Mentor: Mr. Bruce Gustin, bgustin@srcs.org
Industry Guest Mentors
TL Maker Lab Guest Mentor: Mr. Roger Ruttimann, CTO, Reactful, Inc.
--------------------------------------------------------------------------
A Hub for Innovation & Making Really Cool Stuff
Industry Insights --Special Speaker Series
New TL Maker Lab Programs
TL Maker Lab Guest Mentor Program : Let's Make Cool Stuff together with Roger Ruttiman,
For the past 2-years, TL Maker Lab has been meeting as an after school enrichment program so our students will have more time to make so really cool stuff! Roger Ruittman, CTO, Reactful, Inc., has generously agreed to be our Guest Mentor for another year at Maker Lab!
Maker Lab will meet on Wednesdays from 2:45 - 5 pm in the Engineering Tech Computer Room.

Many thanks to the SRCS and community partners like Hermes Econometrics that recently gave a generous gift to support this innovative program! We look forward to posting on the new and exciting projects that our students will make and also look for us again at the Maker Faire 2018! If you would like more information on how to become a project mentor please contact Owen Bartolf, Student Founder at owen.bartolf@gmail.com or Bruce Gustin, Lead Teacher Mentor at bgustin@gmail.com.
Student Project Proposal Grants
To encourage in depth and specialized learning for our students, TL Innovation Lab offers a student grant program to support deeper learning in areas of personal interest. One student each year will be awarded up to $500 in funding upon review of a short proposal and budget to peruse projects that make them excited about applied computer science and engineering.
TL Maker Lab --Maker Faire Project Spring 2018

Next Generation Autonomous Model Cars with Raspberry Pi
Maker Faire Project:
Next Gen Autonomous Model Car -II

Project Instructions [will be posted soon] Materials List [will be posted soon]
TL Maker Lab Student Project Bay Are Maker Faire 2017

Self-driving Model Cars with Raspberry Pi &
Camera Positional Tracking System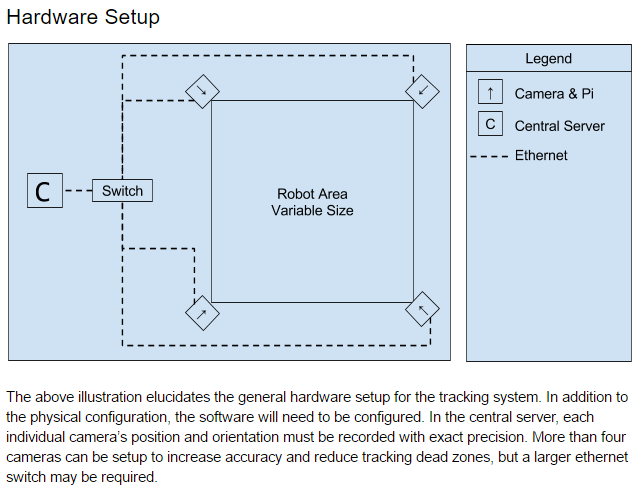 Learn about the experience of building a self-driving model car using Raspberry Pi, off the shelf electronics and a 3D printed body. See the results and talk to the student makers and get inspired to contribute or build your own. Also, learn how to detect the absolute 3D position of self-driving robot using a 4-camera tracking system that feeds data to controller that can issue orders to the autonomous vehicle using this data.
TLMaker Lab Student Project Showcase Bay Area Maker Faire 2017 in San Mateo, CA
Congratulations to TL Innovation Lab on their first robotics exhibit at Maker Faire 2017 in San Mateo! Our Maker Lab team showcased their autonomous model at the world famous annual event that leads the Maker Movement. A fantastic team building effort and learning experience for all our students! Our robots also inspired others, especially the young future roboticists and makers. Our Team also got to meet industry professionals and celebrities along with making friends with the maker community! "The BEST thing I did all school year", said TL Freshman, Maker Team 2017! Special thanks to Roger Ruttiman, Guest Mentor for leading the project and to Hermes Econometrics for sponsoring us! Great Effort! Go Robotics! Go Maker Team 2017! Go TL Innovation! Go TL! Go Maker Faire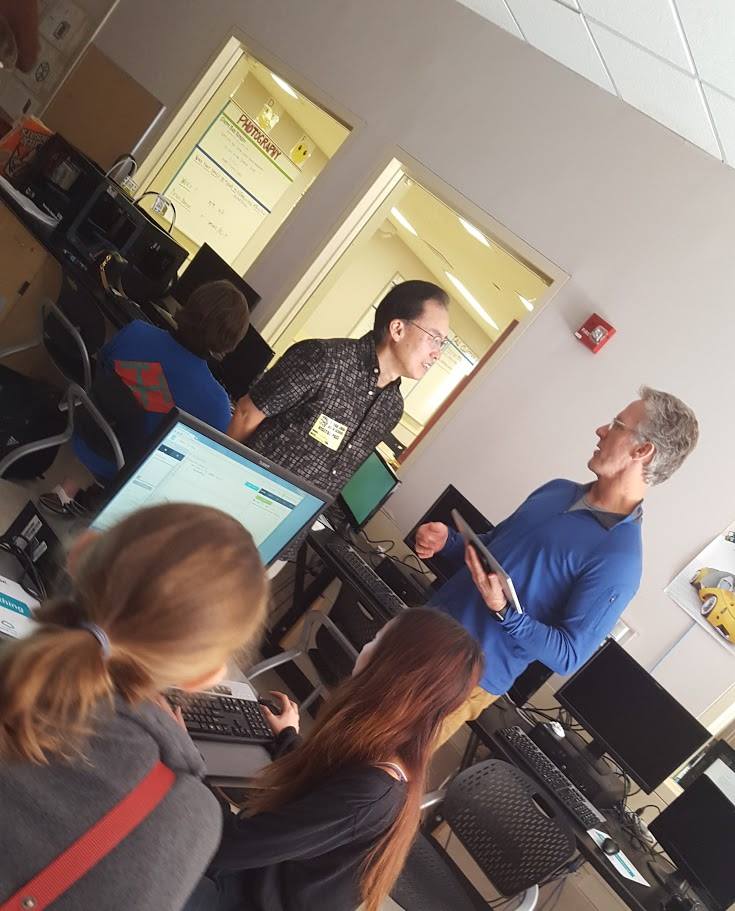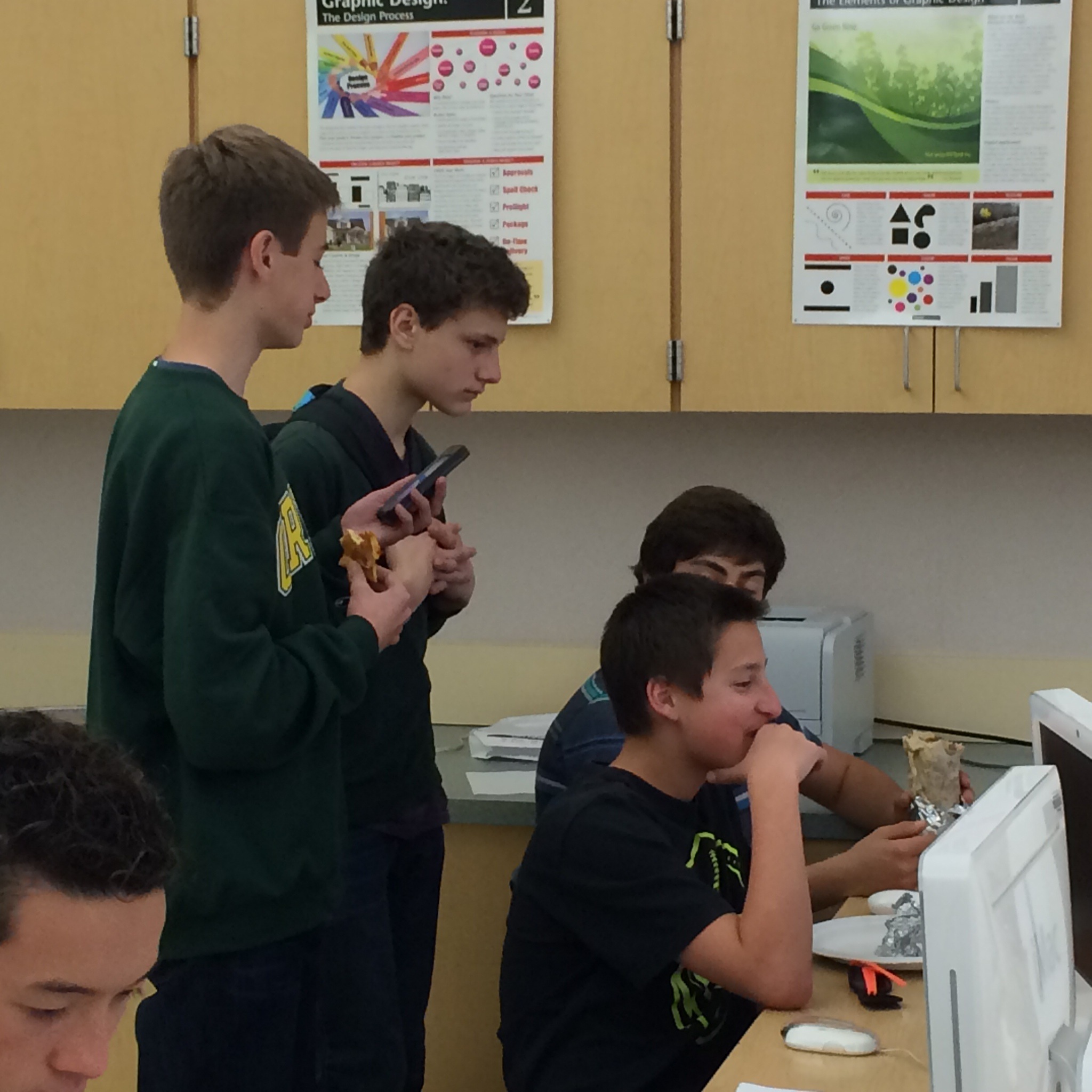 Our innovative enrichment programs let our students explore applied computer science without the impact of grades. This user friendly approach allows a diverse range of students to learn about applied computer science while building confidence and making really cool stuff!
Thanks for the Shout Out Lisa Seacat Deluca, IBM's Master Inventor & MIT's Top Innovator Under 35!
More Fun Stuff We Do!
3D Print Valentine Chocolates
On Wednesday, December 9 at Lunch in Room #302, we celebrated National Computer Science Education week with code.org's "Hour of Code."
The Hour of Code is a global movement reaching tens of millions of students in 180+ countries. One-hour tutorials are available in over 40 languages at code.org. No experience needed. Ages 4 to 104.
Bridging the Gap in Gender & Diversity with our Coding Community!
Director Robin Hauser Reynolds and our generous partners at Mill Valley Film Festival arranged a special educational screening of her new documentary, CODE:Debugging the Gender Gap in Technology to build community with TL Innovation Lab and our friends at San Rafael High School Physics Academy and the Advanced Digital Media Class at Miller Creek Middle School in October 2015. See how much fun we had! Thanks to our community partners at the California Film Institute and Mill Valley Film Festival!
Our Partners
TL Maker Lab partners with a variety of individuals, community and corporate organizations who invest in our community, programs and events to support and inspire computer science and pathways to STEM education for all students at TL! Join our growing list of partners with your generous donation that will make megabytes of difference at our public high school with one of the most diverse student populations in Marin County. Thank you so much for your generosity to TL Innovation Lab!

Contact Owen Bartolf, Student Founder at owen.bartolf@gmail.com or Bruce Gustin, Lead Teacher Mentor at bgustin@srcs.org for more information about supporting computer science at TL!
Our Partners Bridging the Gap in Access to Computer Science and Tech!